The right tires not only help contribute to your vehicle's handling and performance, but can also impact fuel efficiency and safety as well. If your tires are showing signs of wear, you can get exact replacements for the original tires at a competitive price at Bob Tyler Toyota Service Center. Our factory trained and certified Toyota technicians will ensure that your tires are mounted, balanced and inflated to match your Toyota vehicle's specifications.
Keep your Toyota a Toyota by replacing your original tires at Bob Tyler Toyota Service Center conveniently located in Pensacola.
The team at Bob Tyler Toyota knows the importance of having top-quality tires on your automobile. Not only do they provide the grip you need for any road surface, but they also ensure you can effectively come to a stop.
We want to help keep you safe on the roads near Pensacola and Fort Walton Beach, Florida, as well as Daphne, Alabama. Due to this commitment, we have an advanced tire shop on site for all your needs.
Keep reading to learn about the types of tires and services we offer. Also, feel free to contact us with any questions you may have.
Genuine Tires for Your Toyota
At our center, you'll find only genuine Toyota tires. These are designed to fit Toyota models specifically, so they'll be an ideal match for your vehicle.
There are several advantages of buying tires at our dealership. Our staff members are experts in this realm, so they know which tires are best for your automobile. Plus, each part is expertly installed by our factory-trained technicians—they'll be put on correctly and remain in top-notch form for many years and miles.
Furthermore, road hazard coverage is included with eligible tires. If something happens while you're on the road—like a tire blowout—let us know, and we'll fix it for you right away.
Types of Tires Available
We offer tires in various sizes, types, and brands, with the latter including:
Michelin
Dunlop
Goodyear
Bridgestone
Whether you're looking for winter or all-season tires, we'll help you get the right ones for your Toyota model. Just let us know the weather conditions you typically drive in along with your driving style, and we'll find the perfect match for you.
Various Tire Services Available
As we mentioned before, our team will install a new set of tires onto your car in no time. We'll also perform routine maintenance checks to inspect the condition of said tires.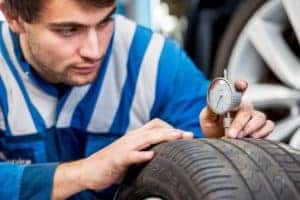 If the tires are underinflated or overinflated, we'll adjust the tire pressure. Either one can cause you to get into an accident, so it needs to be addressed right away. In general, tires wear differently, which is why regular tire rotations are a necessity. You'll extend the life of your tires so that a replacement isn't needed too often.
In addition, when you bring your vehicle in for service, we'll inspect the tires for any cracks, bulges, blisters, punctures, or other types of damage. If the damage isn't extensive, our techs will make the needed repairs. Otherwise, we'll replace the tire with a new one to help keep you safe on the road for a long time.
Schedule a Tire Repair or Replacement Today
Now that you know what we offer at our Bob Tyler Toyota Tire Center, you can contact us for service.
If you need any tire repaired or a set of new ones, don't wait. Contact our Toyota dealership near Pensacola, FL, Fort Walton Beach, FL, and Daphne, AL, for assistance today!