Performing your Toyota oil change at factory recommended maintenance intervals is a great way to keep your Toyota running great and maintain its value. At Bob Tyler Toyota we use Genuine Toyota Motor Oil formulated to help protect against corrosion, prevent foaming and maintain proper application of oil on cylinder walls.
Need an oil change for your Toyota? Our Toyota-trained technicians right here inPensacola at Bob Tyler Toyota can quickly perform this service for you. Schedule an appointment with Bob Tyler Toyota.
---
Motor oil is what helps protect your engine from breaking down. Over time, the oil has to be replaced; otherwise, the engine could overheat and deliver a great deal of damage.
To help prevent this from happening, we suggest changing the oil in your Toyota regularly. Keep reading to learn about our oil change services. Then, contact Bob Tyler Toyota for maintenance near Pensacola, FL, Fort Walton Beach, FL, or Daphne, AL.
Benefits of Genuine Toyota Motor Oil

Whenever this type of service is needed, we'll use genuine Toyota motor oil for the job. This product will make sure your engine delivers top-quality performance and maximizes the fuel economy. Plus, it's formulated to:
Help protect against corrosion
Prevent foaming
Maintain proper application of oil on the engine's cylinder walls
This oil is designed to meet the specifications of your Toyota engine. When it gets changed, the filter will also be replaced with a genuine Toyota oil filter. This filter will remove dirt and other impurities from the oil before they cause excessive wear to the engine.
When Should You Replace the Oil in Your Car?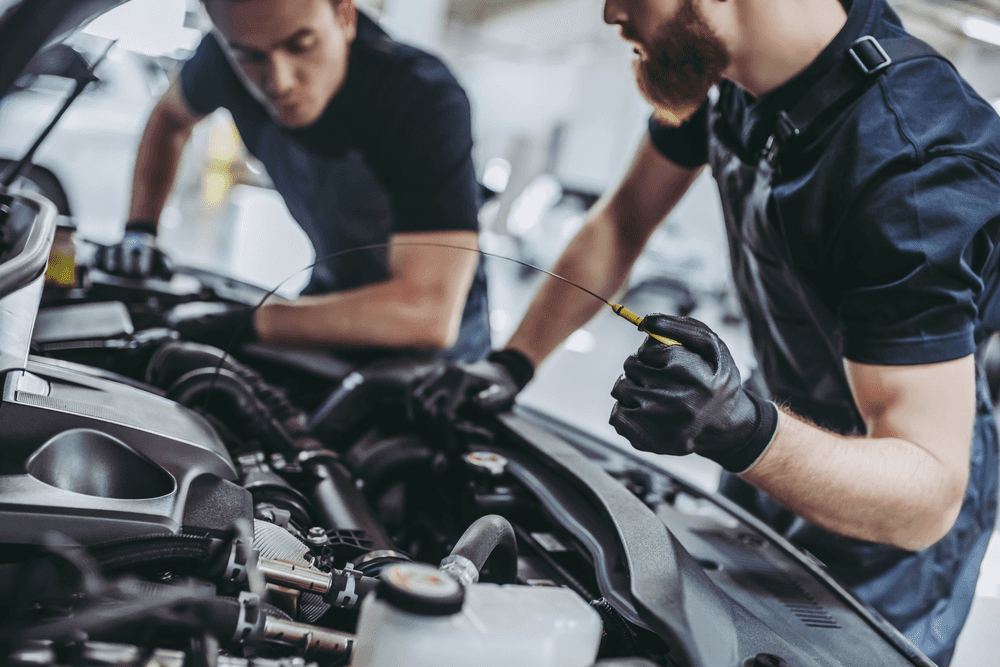 Oil change intervals will vary based on the model, driving style, and environment. Therefore, you'll want to refer to your owner's manual to better determine when an oil change is needed.
Roughly, though, this type of maintenance should be completed every 5,000 to 7,500 miles. If you drive under more severe conditions (like dirt or dusty roads), that may need to be altered to every 3,000 miles. On the flipside, if your car uses synthetic oil and the driving conditions aren't as harsh, you could go 10,000 miles before needing an oil change.
Again, this depends on a variety of factors. Therefore, you'll want to look at your owner's manual or reach out to one of our service technicians for assistance.
ToyotaCare for Your Oil Change Needs
While getting regular oil changes can help keep your vehicle healthy, we also want to make the process as convenient for you as possible. That's why we offer ToyotaCare with each new Toyota model.
This no-cost maintenance plan includes oil changes for the first two years or 25,000 miles of ownership—whichever comes first. In addition to this service, we'll:
Inspect and adjust all fluid levels.
Rotate the tires.
Perform a multi-point inspection.
Between this work and the inclusion of 24-hour roadside assistance, you'll have the peace of mind that comes with owning a Toyota.

Completing Service at Our State-of-the-Art Facility
When it's time for an oil change, you can bring your car right to our service center. Here, our certified technicians will complete the work using the right oil for your model.
While we complete this service, you're welcome to wait inside our lounge area. You can watch TV or use the free Wi-Fi to get some work done. Help yourself to a snack or beverage, too, if you'd like. We'll let you know the moment the work is done.
If you have a busy day ahead of you, ask about our complimentary shuttle service. We can drop you off at work or home—wherever you need to be. When we've finished the oil change, we'll come pick you up and bring you right back to the dealership.
Schedule a Toyota Oil Change Today
Does your Toyota need an oil change near Pensacola or Fort Walton Beach, Florida? Then, don't wait. Schedule service at Bob Tyler Toyota today! We look forward to serving drivers around Daphne, AL, and beyond!