If the answer to any of the questions below is YES, it may be time to replace your battery:
Is your battery more than three years old?
Has your battery outlived its warranty period?
Have any warning lights come on?
Has your vehicle been jump-started lately?
Have you had to use a portable charger to recharge your battery lately?
Do the lights dim when the A/C or heat is on?
Has your vehicle had alternator or belt problems recently?
Is there visible corrosion on the battery posts or cables?
If your vehicle is hard to start and/or has dim headlights when the engine is turned off, your battery is getting weak and should be replaced with a new Toyota TrueStart™ battery. Manufactured to Toyota's exacting standards for quality and performance, these batteries offer the right combination of cold cranking amps (CCA) and reserve capacity (RC) for reliable performance regardless of climate.
Toyota TrueStart™ batteries have been approved by Toyota engineers for years of trouble-free service–and no one knows your Toyota better than they do. Schedule your appointment at Bob Tyler Toyota to have your battery serviced or replaced. We will also properly dispose of your old battery to conserve our environment!
---
Without a working battery, your Toyota won't effectively run on the roads near Pensacola, Florida, Fort Walton Beach, Florida, or Daphne, Alabama.
Due to this, it's important to know how the battery works in your vehicle and some signs that'll indicate when a replacement is needed before it's too late. Read through our guide below, then contact Bob Tyler Toyota if you need any type of service done to your car battery.
---
The Importance of a Car Battery
The battery is what "translates chemical energy into electricity," according to NASA. Inside a battery is a grouping of cells that contains said energy. They store the chemical energy and then transform it into an electrical current to power the engine, lights, and accessories in your automobile.
While a battery is small, it is mighty. After all, it powers everything inside your vehicle. It puts the energy in that's required to start the car. After that, it stabilizes the voltage to keep the vehicle running.
Keep this in mind, too: While you're driving, you're most likely running the AC, listening to the radio, and charging your mobile device—all at the same time. Combine that with having the car lights on, and you have all the makings of draining the battery quickly.
---
When to Replace the Battery in Your Vehicle
Car batteries typically last around three to five years. Time, of course, gets away from us, so you may not know how long it's been since that current battery has been in your car.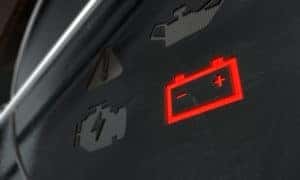 If that's the case, or you know you've never changed the battery, there are some ways to tell if a replacement is needed sooner rather than later:
Strong odor: If the engine gives off a strong rotten egg smell, that's sulfur, and it's indicating a leak somewhere in the battery.
Swelling battery case: This could happen from excessive heat and will decrease the life of your car's battery.
Delayed engine crank: You may go to start your Toyota and find that it takes longer than normal for the engine to turn over. If it's acting a bit sluggish, have a professional look at it as soon as possible.
---
Battery Repairs & Replacements
Our certified technicians are fully experienced on repairing and replacing car batteries. Therefore, they can quickly assess which course of action to take with the one inside your automobile.
We can try to jump-start the battery or check its voltage. If it's beyond repair, we'll swap it out with a new Toyota TrueStart™ battery. Since they offer the ideal combination of cold cranking amps and reserve capacity, they'll be sure to last inside your automobile for a long time.
---
Schedule Battery Service Today
Are you looking to get your current battery repaired or have a new one put inside your car near Pensacola, FL, Fort Walton Beach, FL, or Daphne, AL? Then, don't wait. Schedule service at Bob Tyler Toyota today!